Through the decades of Baby-Boomer maturation, golf course development enjoyed explosive growth with all manner of courses leaping to life in urban, suburban and rural communities across the country.
In Georgia, at the dawn of the 1980's there were around 250 golf courses. By the new millennium, that number had increased to 400 as golf emerged as the most popular amenity attraction for neighborhood developments across the state.
Further fueled by the emergence of golf supernova Tiger Woods as the most dynamic sports figure of the 2000's decade, golf and golf course development continued unabated.  But then, the collapse of financial markets and concomitantly the housing market in 2008 had the effect of grinding golf course development to a virtual halt.
Worse, golf courses shortly began to lose ground as discretionary spending evaporated.  Those courses dependent on immediate cash flow began to disappear. Georgia suffered a net loss of nearly 50 golf courses during the post-recession decade.
Only with the gradual recovery of the economy towards the end of the 2010 decade, did industrious entrepreneurs begin to seek opportunities again in golf course development.
But with real estate now a precious and pricey proposition, new course construction has not fully regained its prior footing.  Instead, a niche market for re-developing closed or failing courses has attracted investment from entrepreneurs with golf course management skills.
In Georgia and North Carolina, a pair of 'golf-lifer' brothers from coal mining country in southern West Virginia have struck a rich vein with this formula.  Benny and Toney Bowles grew up sons of a coal miner in Oceania, WV, but turned early in life to sport as an outlet and alternative to digging in the mines.  Eventually, that led to the local public golf course, Clearfork Valley Golf Course, where both brothers started out scavenging for golf balls to sell, then caddying and ultimately honing their own skills at the game.  It afforded older brother Benny the opportunity to attend Marshall University where he carved out an All-America career that included 13 tournament wins.  The younger Toney, also an accomplished player, settled in as General Manager and teaching professional at their hometown course.
Benny's career advanced after capturing the 1979 West Virginia Open over a field that included 63-year-old golf legend Sam Snead. He accepted a position as a club professional in Orlando, Fl. with an eye on pursuing a career on the professional tour. Instead, he happened on to the informal big-money golf game circuit throughout central Florida, which never quite led to the PGA Tour, but did lead back to the country roads of West Virginia and North Carolina and full immersion into the business of golf course acquisition and management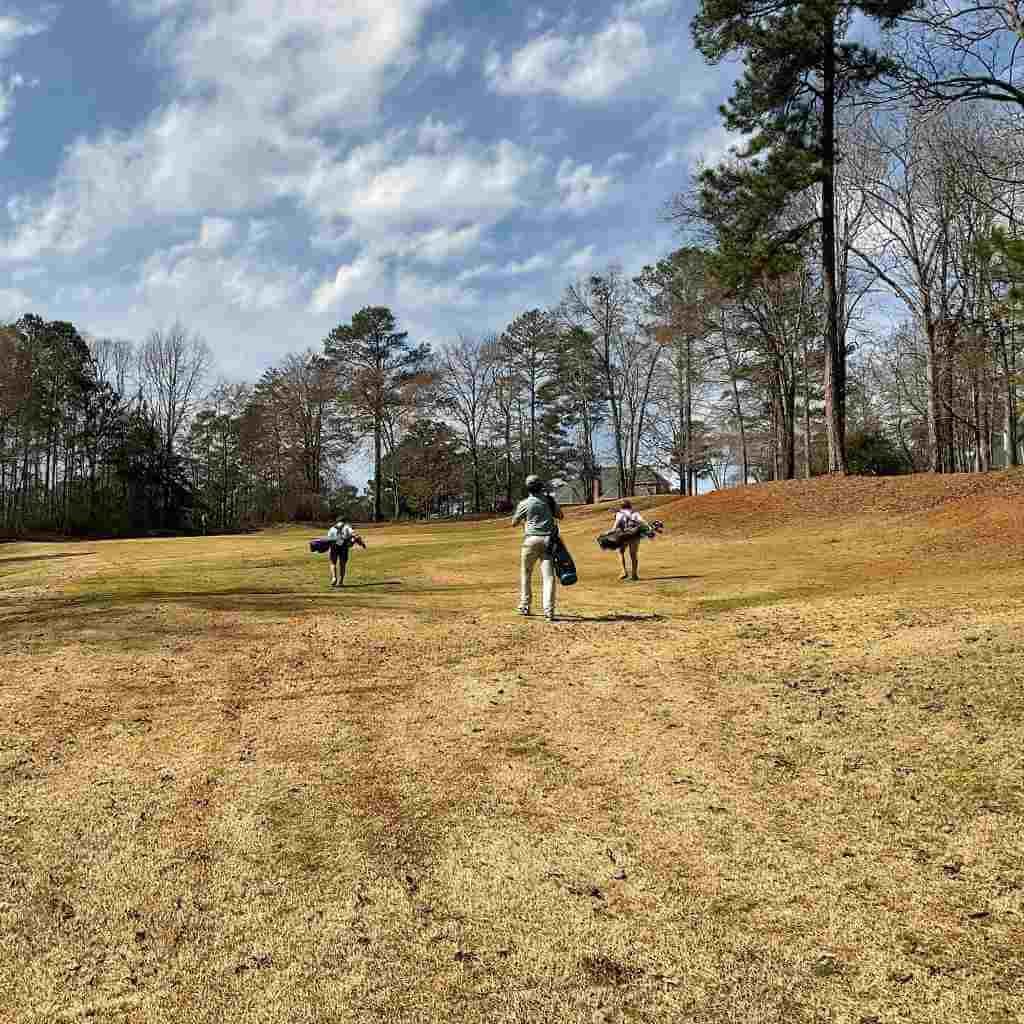 Years later, while Benny was nimbly navigating his way through the recession era as a golf course owner and manager mostly in North Carolina's sand hill region, Tony was approaching a career course correction post-recession as Clearfork Valley was gasping for air while the coal mining industry was disappearing. "Our area is almost totally dependent on coal mining. Without it, the town couldn't support a golf course," Toney lamented.
At that same time, his second son Colin was being courted by major college golf programs as his game had blossomed as a junior player. Among those schools was Florida State, and the family decided on accepting a recruiting visit invitation and combining it with a side trip to a golf course in Albany, Ga. that a real estate contact was recommended to him as an acquisition opportunity.
Florida State didn't get its prized recruit, but River Pointe Golf Club in Albany did get the full attention of its soon-to-be new owner. The Mike Young designed layout adjacent to the densely wooded river basin northeast of Albany enjoyed significant success upon its 1995 opening, even hosting a Hooters Tour event won by Bubba Watson early on in his career.
Several ownership changes through the recession era brought on a steady decline, however, and by 2014 a once-loyal membership had dropped precipitously.  While wife Angie was reluctant at the outset, particularly when a straight-line wind shear storm nearly blew the course into the Flint River on the day before closing, she now performs duties as General Manager and is fully vested in the success of River Pointe. "I had a teaching career back home that I loved, and all of our family and friends were there, but I also knew deep down it was time for our family to leave West Virginia and go in another direction," she recounts.
Shortly after arriving in Albany, college prospect Colin became the second-youngest Georgia Amateur champion next to Bobby Jones, capturing the event in 2016 at the Capital City Club in Atlanta. He eventually signed to play for Ohio State but transferred to Georgia Southern following his freshman season after complications with diabetes treatments, and needing to be closer to home to facilitate treatment and care. "We're all prayerful for his full recovery, and a return to his golf career," says Angie, "but he plans to enter dental school after graduation."
Meantime, the Bowles have orchestrated the successful recovery of River Pointe. Coupled with a surge in golf participation as a consequence of the Covid pandemic, and a committed dedication to improved course conditions and amenities River Pointe has re-emerged as a popular golf destination in Albany.
Bowles is planning a complete replacement of the original Bermuda 328 grass greens this summer with the sturdier and agronomically advanced Tift Eagle variety.
"This course had solid bones to start with, so we are now just looking to build on that and provide our membership and area golfers a great experience when they play here," he said.
Those solid bones of the River Pointe layout include a front nine that is a formidable combination of length and strategy as it winds its way through the well-appointed neighborhood that is pleasingly positioned well back from the playing areas. The front culminates with the course's signature hole, a stout par-4 featuring a pair of imposing oak trees seemingly positioned directly in the line of the landing area.   A protecting pond all along the left flank and running right up to greenside further complicates both the drive and approach. An A frame, white painted clubhouse with a wraparound porch is reminiscent of Augusta National's, and provides a pleasing backdrop to the front nine finishing hole.
The backside runs closer to the Flint River basin and takes on a distinctive low country feel with mossy oaks shadowing the fairway lines, and native grasses encircling swampy ponds throughout. A lengthy cart ride from the 14th green to 15th tee through wondrous natural scenery affords a refreshing respite to re-focus for the final stretch of finishing holes.
Once the scorecard is submitted, the bar and grill under Angie's direction is now a pleasant destination to recap the day's round. "We have brought in one of the best chefs in the area to upgrade our menu and provide a comfortable and quality gathering spot for dining and relaxing," she notes.
After setting River Pointe on a steady path to success, Bowles was approached by another area real-estate agent about a similar, if  more dire situation in Macon, Barrington Hall.
Created as a golf community in 1992 by McGlamery Properties, Barrington Hall instantly proved popular, again capitalizing on the golf boom mixed with neighborhood appeal.
But, a familiar scenario played out once again as decline set in with the effects of the recession and an ineffective new ownership team. Within a decade, the golf club was abandoned to bankruptcy and rapidly returned to nature.
Like River Pointe, Barrington claimed solid bones, but they couldn't be located on Bowles's first visit as the once flourishing course lay camouflaged beneath waist-high grass and rampaging brush. Beavers had dammed creeks and flooded the low-lying areas adjacent to the clubhouse. There was little to recommend the property as a potentially profitable project, but when Toney brought in brother Benny for a look, the two were met by residents Ray Wellington and Greg Rice who assured them they would be well received and supported by past members.
Wellington and Rice proved correct when over $230,000 in advance memberships was raised to provide seed money to begin unearthing the golf course. The Bowles' took ownership in 2019.
Working light and heavy equipment almost non-stop alongside a hardy group of committed volunteer residents for the next two years, Bowles was able to stage a grand opening in April of 2021. "The pandemic year of 2020 actually helped us to be able to work outdoors without interruption for a solid year and bring the course along probably quicker than it would have been done otherwise," Bowles recalled
Greens and teeing areas were attended to meticulously, making the course instantly enjoyable to play, and now this spring Bowles will be able to fertilize for the first time and bring the playing surfaces up to quality standards.
The course ascends gently on both nines away from the low lying area around the clubhouse and provides a wide assortment of challenges as one navigates the various elevation changes.
The most dramatic of those comes at the par-5 straight downhill ninth hole, which could qualify for a Blue Trail ski slope, while affording a commanding view from tee box of large segments of the wooded property and low lying creeks and ponds below.
Also, the dog-leg left par-4, 14th hole situated on the far back end of the property qualifies a scenic stand-out.  An elevated tee looks out over a peninsula patch of landing area that slopes toward the bordering pond. Reaching the fairway, a shallow green complex emerges from the left that is also guarded on three sides by the pond. As difficult as it is beautiful, the 14th begins the trek back to the clubhouse over a series of well-conceived holes that take full advantage of naturally occurring creeks and ponds and adjusting elevations.
A spacious and well-designed clubhouse that was once a center for club events remains dormant for the present, until Bowles can decide the best way forward for its use.  Under consideration is leasing the space to a restaurant among possible options.
Meanwhile, Benny Bowles was also busy with dual reclamation projects in Charlotte and King's Mountain, N.C. He acquired Green Meadows Golf Course in the Charlotte area in 2018 which he describes as, "a great place for beginning golfers to feel comfortable playing, and for families to spend time together outdoors."
At King's Mountain's Woodbridge Golf Links, the elder Bowles faced much the same challenge as at Barrington Hall.  With a proud history dating to the 1970's that included two successful ownership groups led by the textile manufacturing and retail giant Hamrick family, and then the automotive group Beck family, Woodbridge was acquired by Bowles in 2001.
Over time, the clever layout had developed a reputation as a tournament course.  Under the Beck stewardship, Woodbridge hosted a number of women's collegiate events, including the women's NCAA championship. Numerous other area events and charity tournaments were regularly held there as well.
Bowles continued this model successfully for over a decade when a Charlotte investor approached him with an offer to buy the course. Ready to become active again in the Sand Hill area around Pinehurst, Bowles sold the course in 2013.   In only five years, however, Woodbridge collapsed as the new owner suffered health issues, financial reverses and management problems.
Woodbridge landed back in Bowles portfolio by 2019, the same year he was co-investing with brother Toney in Barrington Hall. He called on his step-son, Stephen Anderson (pictured in above left), a teaching professional, accomplished player and experienced course manager, who had previous stints at Woodbridge, to assist in restoring  the course after it's fairways and surfaces had gone to seed.
"We loved Woodbridge during our time there earlier, so it was a passion to bring it back to life," Anderson said. Countless man and machine hours later, Bowles and Anderson re-opened it in 2021 to great acclaim. Again, buoyed by the demand for out of doors activity and socialization brought on by the Covid pandemic, Woodbridge has flourished.
A quaint clubhouse featuring bar and grill and back-deck seating abuts Moss Lake Rd., which divides the two nines. The front side sits on the high side of the property and provides wide vistas of the surrounding country and hillsides including neighboring Moss Lake.
Across the road, the back nine is enveloped by the Woodbridge East neighborhood and follows a meandering creek on part of its journey, including the spectacular 600 yard, par-5 13th hole. The left-turning hole is bordered by the creek on the right, but includes a pair of the signature wood covered bridges that give the course it's name.
"We have actually had weddings held out there including my sister's," Anderson notes. "It is so beautiful with the bridges, creek and woods."
While Benny, with a work ethic born of the West Virginia hill country, continues his direct involvement and oversight of the properties, he has been slowed by pancreatic cancer diagnosed last fall.
His condition has left Toney commuting between Macon and Albany regularly to maintain a handle on the management of those courses. "It's family, and you do what you have to do to make it all work," Toney emphasizes. "Angie (to the right) has stepped up unbelievably to help out. It couldn't happen without her," he adds.
Equally invaluable to Benny has been Anderson's contribution and experience as Director of Golf at Woodbridge.
Together, the entire family forms a support group for one another as they collectively strive to build a blueprint for new growth in golf, revitalizing courses for the enjoyment of generations of players to come.