From golf clothes to customized golf balls, anyone who has been bitten by the golfing bug knows how fun it is to dress up not only yourself but your equipment. Golfers use colorful tees, balls with a nickname or logo on them, and even decked-out custom putters (more on that here) to express themselves on the course. This individuality allows players to portray themselves as their best golfing selves. Not to mention, these golf alignment stick covers are conversation starters! 
What Are Alignment Stick Covers
Golf alignment stick covers are no exception and they're a great way to glam up the bag. They are headcovers fitted to protect alignment sticks, which are golf training aids that help players set up and check their aim during practice sessions. The alignment sticks themselves are sharp and pointed, so throwing a headcover over them is as much practical as it is decorative.
Golf alignment stick covers will stick out (literally!) on any bag and these days, there are more designs than ever. Keep reading for 10 alignment stick options that will make the perfect addition to any golf bag!
1. U.S.A. Alignment Stick Cover
Best overall golf alignment stick covers
Looking to add some red, white and blue to your bag? These U.S.A.-themed golf alignment stick covers, adorned with stars and stripes, is the ultimate patriotic design. You can break it out for Fourth of July festivities or even keep it in the bag year-round. Plus, this cover holds not one but two alignment sticks so you can kill two bald eagles with one stone. Ah, I can hear the "U.S.A.!" chants now.
2. The Vegas High Roller Alignment Stick Cover
Best party alignment stick covers
What happens in Vegas, stays in your golf bag! These Vegas-inspired golf alignment stick covers are sure to have you taking some gambles out on the course. But hey, no risk no reward, right? Complete with poker chips, lucky 7's and a hand of aces, the odds for golfing success never looked so good.
3. Transfusion Alignment Stick Cover
Best Barstool Sports golf alignment stick covers
Who doesn't enjoy a nice drink (or three) during a round? This Transfusion alignment stick cover from Barstool Sports showcases one of the most iconic drinks in golf: the transfusion. This refreshing beverage made of vodka, ginger ale, limes and grape juice is the epitome of country club life (I had a few from the Tito's bar myself at the RBC Heritage and can confirm). Pinkies up as you sip and swing!
4. Luck of the Irish Alignment Stick Cover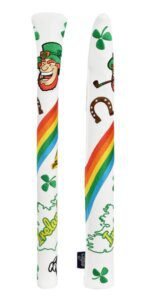 Best lucky golf alignment stick covers
We could all use the luck of the Irish, especially on the course! These Lucky Charm golf alignment stick covers is sure to channel some Celtic fortune. A pipe-smoking leprechaun at the forefront of the cover will ensure nobody steals your lucky charms, which include magical three-leaf clovers, horseshoes and a rainbow. An outline of Ireland rounds out the design. Full disclosure: you may need to drink a pint of Guinness or down a shot of Jameson prior to each round to activate said magic.
5. Aloha Golf Alignment Stick Cover

Best beach golf alignment stick covers
Break out your leis! This Aloha alignment stick cover by Ping is a tropical cornucopia of color that will brighten any bag. If lush jungles and vibrant florals catch your eye, then you'll appreciate the taste of island life this cover brings. It might even inspire the next golfing vacation to Kapalua Resort (home of the Sentry Tournament of Champions) or the Sony Open's host, Waialae Country Club. Ke aloha!
6. Classic Arnold Palmer Golf Alignment Stick Cover
Best classic golf alignment stick covers
You can't go wrong with an homage to the King. This Arnold Palmer golf alignment stick cover features Palmer's signature tri-color umbrellas – the symbol he is known for worldwide. If you're a Palmer fan (who isn't?), have played Bay Hill or simply love Arnie's coined drink (a mix of iced tea and lemonade sounds good right about now!), this cover is a classic addition to the bag. You can also check out our best umbrella holders for your golf cart here!
7. The "I Will Not 3-Putt" Alignment Stick Cover
Funny golf alignment stick cover
Looking for some words of affirmation? This "I Will Not 3-Putt" alignment stick cover is a mantra to behold! May those 3-putts begone with this gentle reminder on the bag. After all, a positive mindset is a game-changer on the course.
8. Sock Puppet Animal Alignment Stick Covers
Best Animal Alignment Stick Covers
You've probably seen animal headcovers for drivers and fairway woods, but check out these Sock Puppet Animals alignment stick covers. From an elephant to a flamingo, there are ten fuzzy friends to choose from to give your bag an old-school feel. Plus, they're pretty adorable companions to have with you during a round.
If you are interested in a new putter cover, check out the coolest putter covers here!
9. Taylormade Metal-T Alignment Stick Cover
Best Taylormade golf alignment stick cover
Are you Team Taylormade? Now you can rep your favorite brand with this Taylormade Metal-T alignment stick cover. The silver-stitched 'T's pop against the red cover for a flashy addition to any bag. However, most of the major brands have their own designs for alignment stick covers. So whether your set is Titleist or Ping, you'll have plenty of options to accessorize for a cohesive look.
Long Bombs Golf Final Say:
If you're looking to add accessories to the bag, you can't go wrong with alignment stick covers! There are tons of designs on the market today and they help protect a training aid that's useful to have in the bag as well. Send us pictures of your decked-out bag to @longbombsgolf on Instagram for the chance of a feature!