There's no question that golf is a complex and challenging sport. But with the right tools, gadgets, and accessories, you can give yourself a leg up on the competition – no matter your skill level. Check out our picks for the best golf accessories available on the market today! Whether you're looking for a new putter or just some sunscreen, we've got you covered.
Whether you have just started playing golf, or have been playing for a while, you will come to a point to realize that your clubs are not the only part of your golf game. Importantly, there are many other golf accessories and golf gadgets that can and will assist in home practice, at the driving range, or on the course. From the best budget golf rangefinders to the best golf alignment sticks, we have plenty of golf accessories for you. We also have golf putting practice mats and other outdoor practice mats that will really enhance your training or practice sessions. All of these golf accessories will enhance your golf game and lower your score.
With so many options and conflicting information we have these days, how do we differentiate the best Golf Accessories from the rip-off Golf Accessories? That is one of the reasons we created Long Bombs Golf. We have spent hours going through in-depth reviews to come up with a list of the 10 best golf gadgets. You can also check out our best golf cart accessories here.
Callaway Telescopic Golf Ball Retriever, with Dual-Zip Headcover
Best golf accessories for hazards
It's inevitable! Hazards are all over the golf course and it's just a matter of time before your ball will find one. More importantly, its imperative to be prepared for this scenario on the golf course. That is why the best Golf Accessory for Hazards falls to this Callaway Telescopic Golf Ball Retriever. The Callaway ball retriever will improve your game without you even realizing it. This is by far one of our favorite best golf accessories we reviewed.
First, it is stress-free and easy to use. Secondly, you will be able to retrieve your golf ball faster and therefore, spend less time being frustrated at the fact your golf ball is out of bounds or in the hazard. Lastly, this will help you keep your mental game in check and avoid any dangerous mental scenarios. It is by far the most durable golf ball retriever on the market.
GoSports Golf Alignment Training Sticks – 3 Pack
Best golf accessory for alignment
One of the best and most versatile practice gadgets that you need in your bag are these 3 alignment sticks. This is all you need for hours and hours of practice drills out on the golf range. The pointed ends are perfect for staking into the ground for endless alignment stick drills. The foldable design allows for easy transportation and storage in your golf bag. There are plenty of alignment sticks out there on the market, but these have the best reviews and most purchases on Amazon. Gear up with one of the best golf training accessories for all skill levels. Learn more about how to use golf alignment sticks here.
Gogogo Sport Vpro Laser Golf Rangefinder
Best golf gadget for distance
This rangefinder is the best value rangefinder on the market with a 650 Yard Max Distance. They also offer a tournament-legal version for around $120. This upgraded setting allows you to turn the slope off. The rangefinder comes equipped with a slope feature. This slope feature is an automatic distance calculation based on the topography of the land. The distance is calculated for you if the targeted greens are uphill or downhill since that plays a big role in the distances. The intelligent lock allows you to identify golf pins precisely without having to distinguish if you are reading the trees. This is very helpful in lower light conditions such as cloudy days when the flag pins blend in.
Learn more about our best budget golf rangefinders and grab one of these best golf magnetic rangefinder straps for easy use.
Golf Chipping Pop Up Practice Net Golf Accessory
Best golf accessories for your short game
If you want to know how to improve your short game, this Golf Chipping Net is where you need to start. This is one of the best golf accessories on the market and perfect for indoor and outdoor practice. One of the best adrenaline rushes in golf is chipping the ball into the hole from the sand or anywhere around the green. This net is one of the quickest and cheapest ways to improve your short game. At Long Bombs Golf, we are all about convenience. The easy pop-up design allows you to set this up pretty much anywhere. From the front yard to the driving range to the chipping green. You can use this to really dial in your chipping accuracy and shave strokes off your score. You could even squeeze this into the house on a rainy day with some Foam Limited Flight Golf Balls.
PuttOut Pressure Putt Trainer Golf Gadget
Best golf accessories for putting practice
Another top short-game accessory that made the list is this PuttOut Pressure Putt Trainer. This aid was designed to simulate the exact conditions of the ball rolling into the hole. The ball rolls back the distance the ball would have rolled past the hole. You can try different putting styles to see which one you like better. Check out the different putting styles article here.
If the putt is accurate, the curved gadget sends it back to you so you don't need to bend over to pick it up. When the line is off, the gadget falls off the curved sides. If the putting stroke is perfect, the ball stays in the gadget. This is great for improving your putting speed and stroke. This accessory is also a convenient one. The easy pop-up design allows you to place this around any flat surface with a decent putting distance. For carpet, I would recommend getting the Putt-A-Bout Putting Matt.
Perfect Practice Putting Mat Golf Accessory
Best portable golf accessories
Firstly, Perfect Practice Putting Mat is the official putting mat of Dustin Johnson. Now, that might not mean much to you. However, the design of the smaller hole specifically makes for greater precise putting practice. Similarly, the railroad track line system will assist in lining up the perfect putts. All around, this is the best system out there. The matt is marked with distances (2ft, 4ft, 6ft, and 8ft) and an uphill putting ramp to refine your putting stroke.
The matt is also very versatile. For example, you can be right or left-handed. Similarly, you can use the 2 or 4 feet of ball return depending on the distance you are putting from. The design of the unique Crystal Velvet material allows for more precise rolling. The matt is designed with Tru-Roll Technology to give your ball a professional green feel. For example, the ball speed is between 10-14 on the stimp meter.
Artificial Turf Mat Golf Accessory for Indoor/Outdoor Practice
Best golf accessory for backyard practice
This commercial-grade matt is perfect for any outdoor scenario designed to feel like you are hitting off of real grass. There are many golf-hitting mats out there that are cheaply built. This Mat is one of the most durable in the best-selling category on Amazon. There are 6 different rubber tee locations perfect for right or left-handed golfers. It also comes with a 1.5″ Rubber Tee, a 2.25″ Rubber Tee, and a 3.5″ Rubber Tee. These are common tee heights that should work for any modern driver. They also make golf tees that are good for golf mats, so check out the best golf tees here. You must get the 5'x4′ PRO model. The standard mats will not last long and you will end up having to replace them. This was the common theme in all the 1-star reviews for this product. This is still one of the best golf accessories you can get.
Garmin Approach S10 GPS Golf Watch Gadget
Best wearable golf accessory
How do you focus on your golf game and GPS distances at the same time? The S10 is your watch. There are over 41,000 preloaded courses to choose from. This watch will read you the distances in yards to the front, middle, and back of the greens. The watch automatically switches to the next hole upon arrival. The watch will allow you to keep score right on it. After the conclusion of the round, it displays a summary that shows the total time played, distance played, and your total score. The sleek and smooth design allows you to fashionably wear it as a part of your wardrobe. The battery is rechargeable and lasts up to 12 hours in GPS mode. The S10 is water-rated up to 50 meters.
Balight Golf Swing Trainer Accessory
Best swing training golf accessory
It is perfect for full-swing approach shots and short-game training. Golf is challenging and the Balight Whip will help you lower your scores and have more fun on the golf course. Achieve your own athletic golf swing by improving your rhythm timing balance coordination and flexibility. Receive instant feedback with each swing; a wobbly and off-balance swing shows a need to improve rhythm timing & balance. Feel improved synchronization between your upper body and lower body.
With this swing trainer, you can easily gain greater coordination and better muscle memory. It allows you to focus on swinging naturally without worrying about the position of the club face and experience a stable swing from start to finish. 10-20 swings every day will improve swing tempo strength and flexibility Easy to use – simply "swing" the Gold Flex back and forth continually without stopping at impact position as if swinging to a metronome Low-impact stretch for pre-round warm-up Improves swing tempo strength and flexibility of lag and develop core golf muscles.
Golf Impact Tape accessories – 100 Driver & 100 Iron Labels
Best golf accessory to improve your swing
These club face labels, we believe, are a product that is quite often overlooked by the best in the game. First of all, these stickers are simple to peel off and stick to any driver or iron face. The only other thing you need to do from there is swing away. The stickers will show you where you are hitting the ball on the club face. Remember, Center of the club face is key. The labels are the thinnest in the market. Similarly, they deliver crisp, high-resolution impact images right after you swing. You can use each label on right or left-handed clubs. Lastly, you can swing your club 6 times with the sticker on before being replaced. That's 1200 golf swings on one roll!
FlightScope Mevo Launch Monitor
Prices pulled from the Amazon Product Advertising API on:
Product prices and availability are accurate as of the date/time indicated and are subject to change. Any price and availability information displayed on [relevant Amazon Site(s), as applicable] at the time of purchase will apply to the purchase of this product.
Most valuable golf accessory
The FlightScope Mevo is a launch monitor that uses 3D Doppler radar technology and can be used indoors and outdoors to provide users with accurate data to help improve their golf game. Interestingly enough, the Mevo Includes 8 full swing performance data parameters, available immediately, including an option for text-to-speech. Along with the carry distance, this flight scope measures the total distance you carry the ball on each shot.
This is useful for determining how far your drives are actually traveling. It's also helpful in determining whether or not you're hitting up on the ball too much or slicing it off the tee. The spin rate measures the revolutions per minute (rpm) of your club head at impact, which will give you a good idea of how far the ball will carry. With 6 other wonderful data parameters, you need to grab one of these today. Dont forget to grab a golf power bank so that you can keep the launch monitor charged on the go.
(11th Item Bonus) Lag Shot Driver – #1 Swing Trainer in Golf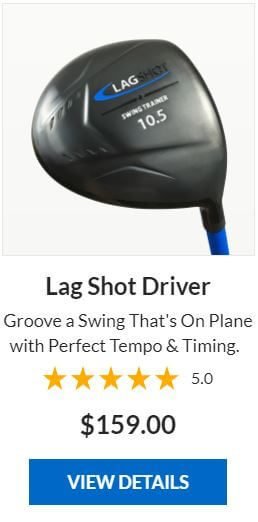 Best "realistic feeling" golf practice accessory
What is Lag?
Firstly, what is Lag? If you have ever wondered, "How do the professional golfers hit the ball so far?" You will need to understand what the term "Lag" is. Stored energy is what creates lag. In simple golf terms, It is the relation between the center of the clubface to the handle position.
Lag Provides 2 things. Firstly, More power to your golf swing. The greater the lag in the golf swing, the more power. Secondly, The greater the lag in the golf swing, the better chance you have of striking the ball in the center of the club face.
The very flexible shaft of the Lag Shot Driver forces you to feel the stored energy from each swing. Most importantly, You cannot swing this club too fast or too slow without shanking the ball at a 45 degree angle almost hitting your golf partner. Just 10-20 swings on the driving range before a round will surprisingly increase your timing and rhythm.
Perfect golf accessory gift for a beginner
This Lag Shot Driver is the perfect gift for a beginner golfer or anyone looking to revolutionize their swing. Guaranteed to improve club head speed, it is one of the key tools any golfer needs in their bag to hit Long Bombs. Pair that with our best golf balls for slow swing speeds and you will be all set for your next round!
This club comes backed with a 30-day money-back guarantee. Also, this great deal comes with a 10-video swing training course that is filled with Lag Shot-specific drills, pre-round warm-up strategies, techniques, and simple tips to hit the golf ball further and play better golf. Most Importantly, this is why we rated the Las Shot Driver up at #1.
Lastly, You do not need to get the driver, they also have single Lag iron clubs or sets of clubs.
LongBombs Golf Final Say
So, what are you waiting for? Get out there and start improving your golf game with some of the best golf accessories on the market today. We have you covered whether you're looking for something to really improve your golf game, a better way to track your stats, or just something to make your time on the green more enjoyable. Don't wait any longer, grab any of these items today and see an improvement in your scores almost immediately.