"The Arctic Open: Iceland's Midnight Golf Tournament"
An Open is coming up, but it's likely not the one you're thinking of. If the weather at St. Andrews seems precarious, it pales in comparison to the conditions at the Nordic country club hosting a golf tournament this month. Held at Akureyri Golf Club (also known as Jaðarsvöllur), the Arctic Open is Iceland's offering for a truly one-of-a-kind golfing experience. With nonstop sun and expansive landscapes at one of the northernmost courses in the world, here's the event's full rundown.
The History
The inaugural Arctic Open was hosted in 1986. Since then, the field has grown to an impressive 120 players with this year's entry fully booked. Golfers from across the globe – both professional and amateur- are welcome to come compete at this par-71 championship course tipping out at over 6,600 yards. Besides the challenging 134 slope rating, the course is laid out over rolling ridges scattered with shrubs and trees. The fourth and fifth tees lend picturesque views of Eyjafjordur bay. A striking snow-capped mountain backdrop might make it difficult to concentrate over some shots but is indeed an enticing draw for players to make the journey from overseas.
General manager Steindór Ragnarsson, who started working as a greenkeeper at Akureyri back in 1998 and has gone through nearly all the jobs at the course, has been organizing the Open for over five years. "Most of the work is planning the tournament, working with sponsors, and organizing how things are setup and every year has something different to it," he shares. "It's a great event with happy golfers enjoying golf."

Past winners include South African Adolphe Botha and teaching professional Heiðar Davið Bragason. "Playing in midsummer at high altitudes in this one-of-a-kind environment was the attraction," recalls Botha. Temperatures dropped to a frigid 35 degrees Fahrenheit that event, unusual for the typically calmer season.

Meanwhile, back in 2012, Bragason claimed victory with a two-day total of 142 högg (Icelandic for 'hit', synonymous with 'strokes'). For the Iceland native, the Open evoked a sense of nostalgia: "It's special and reminds me of my youth years playing golf late into the evenings…I was often coming home between ten and midnight." Bragason's sense of humor and respect for the game was conveyed in our online communications. He enjoyed his experience in the Open so much, in fact, that he later became the head golf instructor at Akureyri in 2018. He now runs a booming junior program out of the club and is currently coaching his young team at their first tournament of the season. His advice for competing at Akureyri? "The course is hilly so it's a good walk and you need to be good at judging distance up[hill] and downhill."

Other competitors in the Open have noted the course's many tests: an abundance of bunkers, doglegs and elevation changes. Staff hospitality was an echoed appreciation amongst visitors. One Canadian participant especially enjoyed the hot chocolate and rum stations dotting the course, which likely proved a tasty distraction from wayward shots.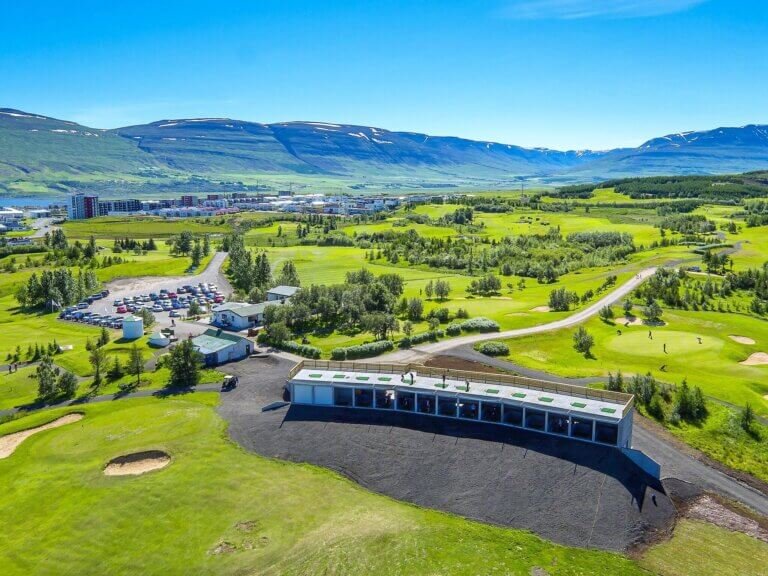 Schedule
The Arctic Open is a two-day, 36-hole event. This year's tournament is from June 23-25.
On Thursday, players will enjoy a welcome reception at noon. Groups will then begin teeing off the first hole. Tee times range from 1:30pm all the way until 11:50pm! Don't worry about glow-in-the-dark balls or headlamps – there will be plenty of daylight to finish your round. Friday follows the same tee-off schedule, and Saturday brings a closing dinner and awards ceremony to crown the winners.
Entry Fees
An entry fee of $419 USD includes a Wednesday practice round, opening luncheon, the awards dinner and a bonus round on Saturday following the conclusion of the tournament. There are also swag bags doled out: past gifts have included custom Sun Mountain apparel embroidered with the Arctic Open logo and even a survival kit.
Format
Amateur scoring is tracked using the Stableford point system, which measures scores based on an individual's handicap. There is a minimum of 36 points every round that can be accumulated, which equates to 2 points per hole for making par. Birdies or better yield supplementary points. For higher handicaps, extra points are also awarded each hole for getting a par or better.

A player's handicap number equals the number of index holes he or she can accrue added points.
Let's take a five-handicap for instance. On top of the base level 36 points, this player will get 1 added point opportunity for each of the five hardest holes on the course. On the holes ranked stroke index 1 through 5, if this player makes par, he will get 3 points instead of 2. If he makes birdie, 4 points, and so on.

Conversely, a scratch handicapper will not have this index-based adjustment nor be rewarded additionally for simply making par. Therefore, to accrue more points, he or she will need to shoot under par.

The Stableford system is an equalizer to allow higher handicappers the chance to be competitive, while stronger players need to perform to rack up points.
Prizes
First place – and a trophy to match – will go to the player with the lowest score with handicap. Along with individual scoring, groups of four will be randomly selected for team-based scoring. There are also separate brackets for lowest stroke score (sans Stableford), age (55+) and gender. Prizes will be awarded for each category, including equipment, Titleist clubs, and acessories. The Open does have a handicap limit, with 24 and 28 being the maximum handicaps allowed for men and women, respectively.
Conditions
What is Iceland like this time of year? According to Guide to Iceland, June is filled with blooming flowers and more mild temperatures. Grab one of these best golf beanies before going! The average high during the day is around 55 degrees Fahrenheit – still warranting, perhaps, a winter hat or pullover. Centered around the summer solstice, the Open tournament will see an impressive 22 hours of daylight. Though there are a few hours of "civil twilight" each day, the sun never wholly sets. 
Travel & Accommodations
The tournament takes place in Akureyri, the second largest town in the country. It is roughly 4.5 hours' drive or a 45-minute flight from the capital, Reykjavík. June kicks off peak season and flights clear a grand easily. You can check out third party websites or book through the main airline company, Icelandair. Flight particulars will vary based on the departing location, but direct international routes were added this year into Akureyri airport for convenience.
If you prefer flying into the capital and taking the scenic route instead, good news: the roads are much, much better in June. Though a 4×4 vehicle is still a necessity, you can take advantage of the rental to sightsee the countryside (Icelanders drive on the right side of the road). There are paved highways but also many gravel roads.
For accommodation, a list of hotels in town is available here. Clean and modern amenities are a staple of Icelandic lodging.
Things to Do
Aside from golf, Iceland is a popular tourist destination for its rugged beauty. From active volcanoes and waterfalls, to glaciers, geysers, and black beaches, the nation attracts hundreds of thousands of visitors each year.
Akureyri is home to many of these landmarks, including geothermic Lake Mývatn. Two local islands, Hrísey and Grímsey, house puffin birds. The local Dettifoss waterfall is the most powerful in all of Europe. Nearby whale and seal-watching towns are perfect for wildlife lovers. As well, the town is conveniently situated on Iceland's famous Ring Road– a route you can take around the entire country.
Akureyri itself is a large fishing port laden with ships in its bustling harbor. With skiing and snowboarding festivals, museums, top-notch restaurants, and rich art, Akureyi is something to behold. It's important to note that Iceland is the third most expensive country in the world, so those planning a trip may want to book a lengthier stay to get the most out of their plane ticket.
Golf in Iceland
Iceland has more golf courses per person than any other country and the sport continues to grow. Arctic Open champion Bragason, who started playing at the age of ten, says that he took up the game during the summer months. "At that time," he explains, "there was no winter practice like how it is now." Over the past decade, practice facilities have surged complete with the best indoor putting greens and simulators. "Our regular tournament season is from end of May to end of August, but [with these developments] we can play golf until October." 
I asked Heiðar Davið his perspective on learning to play in a climate that can be subfreezing and unforgiving. "I don't think it's an advantage or disadvantage being in Iceland…it's all about perspective and what the individual is willing to do to be successful." He carries that philosophy with his teaching, sharing that golf has become the second biggest sport in the country (after soccer). His dream is for the national golf federation to provide schools with golfing gear and equipment, to introduce more youth to the game.

With breathtaking views, endless sun, and uncapped potential for the trip of a lifetime, the Arctic Open – and all that Iceland has to offer – really could be a midsummer night's dream.